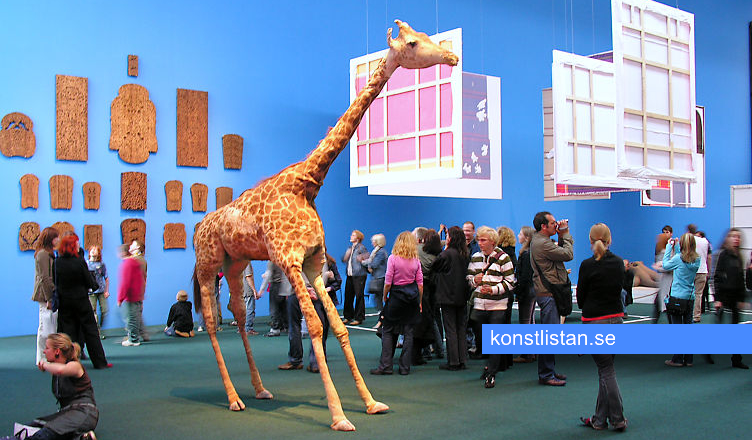 Image from Documenta 12, Kassel, Germany. The giraffe was called Brownie and was part of an artwork by Peter Friedl.
---

Welcome to konstlistan.se – The Art List.
Your resource for information on contemporary art, art history, galleries, museums, artists, and photographers.
The Internet is growing. There were 5.38 billion (5380,000,000) indexed pages on the Internet as of December 19, 2018. So how can one find something, and what is worth looking at? If you Google, those who are best at becoming visible on Google get the highest results, and they do not necessarily have to be the most interesting and useful pages. (Read more about the "invisible web" on this page.) That's where the art list comes in. I have tried to make a collection of links in different areas that can be a good starting point for discovering more.
---
Most browsers come with built-in translation tools that allow you to translate text into your chosen language right away.
The Best Web Browsers for Instant Text Translation.
Have you ever stumbled upon a webpage written in a foreign language and wished you could understand its content? Fortunately, modern web browsers offer a convenient solution: built-in translation features that can instantly convert text into your preferred language. In this article, we'll walk you through the steps of using the translation method in some of the most common web browsers.
1. Google Chrome (In my opinion, the best browser to use for translations):
Navigate to the website:  Open Google Chrome and visit the webpage you want to translate.
Right-Click for Translation: Right-click on any part of the page. In the context menu that appears, you'll see the option "Translate to [Your Language]  Click on it, and Chrome will instantly translate the content.
Translation Toolbar: You can also spot the translation icon (a globe) in the address bar. Click on it, and Chrome will provide the option to translate the page. You can even choose to "Always translate" this specific language.
---
2. Mozilla Firefox:
Visit the webpage: Launch Mozilla Firefox and go to the webpage you wish to translate.
Translation Icon: Look for a purple icon with a "globe" symbol in the address bar. Click on this icon, and Firefox will offer to translate the page. You can adjust the settings by clicking on the gear icon that appears.
---
3. Microsoft Edge:
Open the webpage: Start Microsoft Edge and access the webpage you'd like to translate.
Translation Prompt: When Edge detects a foreign language, it will display a prompt offering to translate the page. Click "Translate" to see the content in your preferred language.
---
4. Safari (on macOS):
Access the Website: If you're using Safari on a macOS device, go to the webpage you want to translate.
Translation Button: Safari often displays a "Translate" button in the address bar when it detects a foreign language. Click on it, and Safari will promptly translate the text for you.
---
Benefits of Browser-Based Translation:
Quick Understanding: Instant translation allows you to grasp the essence of content on foreign-language websites.
Convenience: You don't need to switch to a separate translation tool or plugin; the feature is integrated into the browser.
Efficiency: It's particularly useful for casual reading and exploring websites without the need for precise translation.
While browser-based translation is incredibly handy, keep in mind that it might not provide the same level of accuracy as dedicated translation services or manual translation. For important documents or detailed content, a professional translation service is recommended. However, for quickly understanding the gist of foreign-language content, these browser features are a lifesaver.
Next time you encounter a webpage in an unfamiliar language, remember that your web browser can be your bridge to understanding the content, breaking down language barriers with just a few clicks.